2 November 2014
Quotes to Inspire
"When our thinking becomes fragmented, we lose our sense of purpose. Instead of pursuing worthwhile goals, we drift through life, wasting time, money and relationships. We put time and money into things that bring temporary pleasure. Talents, ambitions and joy are wasted on pointless pursuits. We end up feeling life is empty." — Charles Stanle
"A man's make [character] can be seen by the way that he treats those who are of absolutely no value to him." — Unknown
"Don't be afraid to take a big step if one is indicated; you can't cross a chasm in two small jumps." — David Lloyd George
"I would rather fail in a cause that will ultimately triumph than to triumph in a cause that will ultimately fail." — Jim Elliot
"Better to write for yourself and have no public, than to write for the public and have no self." — Cyril Connolly
"Some want to live within the sound of church or chapel bell; I want to run a rescue shop within a yard of hell." — C.T. Studd
"Would that God would make hell so real to us that we cannot rest; heaven so real that we must have men there, Christ so real that our supreme motive and aim shall be to make the Man of Sorrows the Man of Joy by the conversion to him of many." — J. Hudson Taylor.
"I was taught that the way of progress is neither swift nor easy." — Marie Curie
"The highest form of success comes to the man who does not shrink from danger, hardship or from bitter toil

; and who, out of these, wins the splendid ultimate triumph." — Theodore Roosevelt
"I've learned that people will forget what you said, people will forget what you did, but people will never forget how you made them feel." — Maya Angelou
"Sometimes we stare so long at a door that is closing that we see too late the one that is open." — Alexander Graham Bell
"As I look back on my life, I realize my father gave me the best gift I ever received in my youth. That was the gift of 'unconditional love and acceptance.' There is no greater gift that you can give someone." — Ray Lammie
"An optimist is the human personification of spring." — Susan J. Bissonette
The Temple King Solomon Built
God blessed Solomon with wisdom and understanding, and exalted him in the sight of Israel. 
His wisdom quickly became known worldwide and his wealth exceeded all the kings in the world. 
Solomon spoke 3,000 proverbs, wrote 1,005 songs, the book of Ecclesiastes and the Song of Solomon. He accumulated knowledge of trees, animals, birds, fish and more. Men came from all nations to hear the wisdom of Solomon.
In his fourth year, King Solomon began building the temple of the Lord according to the blueprints that God revealed to David. It was constructed in Jerusalem on Mount Moriah. 
The temple was approximately 90 feet long by 30 feet wide, and three stories high. 
David had contributed his personal wealth and extensive amounts of timber, stone, iron, bronze, silver and gold. Solomon, too, personally purchased imported lumber and stone. 
Almost 200,000 of his own people labored to transport materials to Jerusalem.
The interior of the temple was decorated with detailed carvings and plated with over 20 tons of gold. It took seven years to construct, but when it was finished, it was one of a kind.
Dedication
After the completion of the Temple it was dedicated by King Solomon in 953 BC Solomon's speech to the people and his marvelous prayers were followed by an enormous offering of 22,000 oxen and 120,000 sheep. A great public feast followed.
The feature that set apart the Solomonic Temple from other Temples in the ancient world is that there was no idol in it. It contained only the Mercy Seat over the Ark and the Cherubim overshadowing the Mercy Seat. 
This declared to the world that idols are unnecessary for God to be present. 
The God of Israel was not localized in any sense. Neither was He bound to any other form such as the Ark. The Temple therefore was not necessary because of God's nature. He did not need it. 
The Temple was built to meet the limitations and needs of God's people. It emphasized the way of salvation to the those who asked His forgiveness and represented the believers assurance of the grace of God for their joy and blessing.
The Temple also symbolized the hearing ear of God.
It was also a place of refuge for the stranger.
The Temple is the house of prayer for all people where all nations of the earth should fear God.
What we know about Solomon's Temple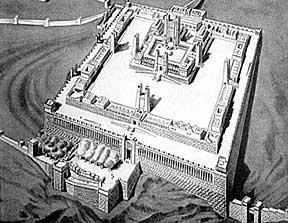 The on-going, intensive research now being conducted by The Temple Institute, and other groups in Jerusalem, will soon bring us more published and accessible information on the Temple of Solomon. Until now most of the published descriptions of the temple have been based on the Bible only. 

Extra-biblical sources (Ref. 2) describe the Sanhedrin, the Supreme Court of ancient Israel as being housed in a special building in the Temple courtyard named the Chamber of Hewn Stone (Lishkat ha-Gazith).

We have descriptions of the ritual bath (mikvah) used by the high priest. The mikvah was supplied by flowing ("living") water from the spring called Ein Eitam which is in the hills of Bethlehem near the Pools of Solomon which are still extant. The spring was 23 cubits above the level of the Temple court.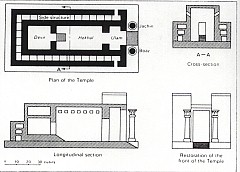 Two chambers in the Temple are named in the Mishnah. One, the Chamber of Secrets, was where the devout placed their gifts in secret. The poor received support from these gifts also in secret. The Chamber of Utensils was also a room for storing gifts from which distribution was made every 30 days.

The vaulted Chamber of the Hearth (also mentioned in the Mishnah) was the room the eldest sons could stay and young priests sleep with the keys of the Temple Court in their custody. A fired burned continuously there to keep the occupants warm.

Incense for the temple was prepared by a family named Abtinas in the upper story of a special building in the courtyard, the Chamber of Abtinas.

We can easily imagine that rooms were needed for wood storage, for extra copies of the sacred vessels, for priestly garment storage, for temple records. Access tunnels came into the temple underground (according to more than one historical account) and some of the storage rooms were underground. These underground rooms and tunnels have apparently not been cleared, entered nor explored since the destruction of Solomon's Temple on the 9th of Av, 586 BC!
Passing the Torch
John LeBlanc
Most of you know that both my dad and my father in law died in the same week this past July. Since then my wife and I have been busy literally selling the farm my parents lived on and disposing of all the farm equipment and 75 years accumulation of business, farm and personal stuff. Just going through it is a long process, not to mention disposing of it.

I found a few really neat things I had not seen since I was a kid right away. I decided then and there that there would not be any wholesale removal of anything. The memories those things brought back were just too valuable.

After many hours, days and weeks of blood, sweat and tears literally, on the top shelf of my Dad's workshop covered with dirt daubers and spider webs was a Gerber baby food jar. Inside it was a key ring. On the key ring was a Nickel alloy almost round magnet the size of a dine and about 4 mm thick. 

My dad was a radiator repairman and welder. One of the problems right after WWII was radiators had a lot of iron parts on them that caused repair problems. Dad needed a handy magnet to sort out these parts. His uncle was a metallurgist at a local refinery and made that magnet for him. As a kid I always remember it on his key ring. About 10 years ago I asked what happened to it and he told me he did not know.

He obviously put it in a safe place. I found it.

Dad, it is on my key ring just like it was on yours. 

The torch is passed.

When it came time to do the same thing at my father in law's house my brother in law "I just can't do it" is what he told me. Too sensitive of a guy. My dad took that sensitivity out of me with a little strip of leather and the admonition to "suck it up and take it like a man". 

My Dad's parents were both killed when he was 16 in 1932 in the midst of the depression. Dad knew what "suck it up and take it like a man" meant. He had been there, done that. I often thought of him telling me that and it got me through many a dismal hour in my youth, the U S Army, at Philmont and all along life's path.

I even passed it along to my daughters. My 23 year old is often heard telling her whining friends to "suck it up and take it like a man" and they do!

Anyway, the time came to clean out my father in law's attic. He notoriously saved EVERYTHING, packaged it in an appropriate box or bag, tied it with string and labeled it. This was brought to my attention when my wife and I had our first child (the 23 year old) and she was ready to start coloring with Crayolas.

Grandpa fetched my wife's coloring books and Crayolas from the attic where he put them some 35 year earlier.

OK, I approached my brother in law about cleaning out the attic. He told me he just couldn't put his mind to it that it was too painful and anyway almost everything up there was mine. He told his sister she could have anything that was up there. 

True my wife had put a lot of baby stuff in her dad's attic as ours is not very big so we got after it. 

Yesterday we started working on the attic. Besides five computers that belonged to her brother and three degrees worth of engineering notes and texts stored there we also found his Cub Scout uniform from 50 years ago.

She also found a silver tray and coffee and tea service that she had never seen before. The note in the box told that it was her great grandmothers. We had it appraised today at $500.00. It is not the monetary value, but the fact that it is a family heirloom she had never seen or heard about.

Today I found her brother's A. C. Gilbert No 6-1/2 Erector Set complete with instruction booklet and the electric motor and gear box. Mine gave up the ghost long ago and what is left of the "customized" parts is in some landfill. If you have never built things with an Erector Set, you just have never lived.

I don't think the gear box on the motor drive would pass OSHA standards today but back then kids didn't go sticking their fingers into gears to see what it would do. We knew without trying.

Since he told me the stuff was all mine I am enjoying playing with MY Erector Set even though his name is written on the box. I just got off the phone from telling him how much fun it was to play with it again after a 50 year hiatus.

I told him that when I got through playing with MY new toy, he could borrow it someday so long as he returned it the same day. No overnight loans. I did not want him to become attached to it.

In reality, I'll clean it up and give it to him for a Christmas present. In the meantime, I'm gonna make him sweat. I'll throw in his Cub Scout uniform for good measure. He doesn't even know I found it.

His daddy always put the things into the attic and Gene and Susan had no idea where or what was there. The attic was their dad's sanctum sanctuary.

Now I am the custodian of the attic. 

And again, the torch is passed.


Author Unknown
Stories like this, always have a way of putting the right perspective on life.
Jean Thompson stood in front of her fifth-grade class on the very first day of school in the fall and told the children a lie. Like most teachers, she looked at her pupils and said that she loved them all the same, that she would treat them all alike. And that was impossible because there in front of her, slumped in his seat on the third row, was a little boy named Teddy Stoddard.
Mrs. Thompson had watched Teddy the year before and noticed he didn't play well with the other children, that his clothes were unkept and that he constantly needed a bath. And Teddy was unpleasant.
It got to the point during the first few months that she would actually take delight in marking his papers with a broad red pen, making bold X's and then marking the F at the top of the paper biggest of all. Because Teddy was a sullen little boy, no one else seemed to enjoy him, either.
At the school where Mrs. Thompson taught, she was required to review each child's records and put Teddy's off until last. When she opened his file, she was in for a surprise. His first-grade teacher wrote, "Teddy is a bright, inquisitive child with a ready laugh." "He does his work neatly and has good manners...he is a joy to be around."
His second-grade teacher wrote, "Teddy is an excellent student well-liked by his classmates, but he is troubled because his mother has a terminal illness and life at home must be a struggle."
His third-grade teacher wrote, "Teddy continues to work hard but his mother's death has been hard on him. He tries to do his best but his father doesn't show much interest and his home life will soon affect him if some steps aren't taken."
Teddy's fourth-grade teacher wrote, "Teddy is withdrawn and doesn't show much interest in school. He doesn't have many friends and sometimes sleeps in class. He is tardy and could become a problem."
By now Mrs. Thompson realized the problem, but Christmas was coming fast. It was all she could do, with the school play and all, until the day before the holidays began and she was suddenly forced to focus on Teddy Stoddard.
Her children brought her presents, all in beautiful ribbon and bright paper, except for Teddy's, which was clumsily wrapped in the heavy, brown paper of a scissored grocery bag. Mrs. Thompson took pains to open it in the middle of the other presents.
Some of the children started to laugh when she found a rhinestone bracelet with some of the stones missing, and a bottle that was one-quarter full of cologne. She stifled the children's laughter when she exclaimed how pretty the bracelet was, putting it on, and dabbing some of the perfume behind the other wrist. Teddy Stoddard stayed behind just long enough to say, "Mrs. Thompson, today you smelled just like my mom used to."
After the children left she cried for at least an hour. On that very day, she quit teaching reading, writing, and speaking. Instead, she began to teach children. Jean Thompson paid particular attention to one they all called "Teddy."
As she worked with him, his mind seemed to come alive. The more she encouraged him, the faster he responded. On days where there would be an important test, Mrs. Thompson would remember that cologne. By the end of the year he had become one of the smartest children in the class and...well, he had also become the "pet" of the teacher who had once vowed to love all of her children exactly the same.
A year later she found a note under her door, from Teddy, telling her that of all the teachers he'd had in elementary school, she was his favorite. Six years went by before she got another note from Teddy.
He then wrote that he had finished high school, third in his class, and she was still his favorite teacher of all time.
Four years after that, she got another letter, saying that while things had been tough at times, he'd stayed in school, had stuck with it, and would graduate from college with the highest of honors. He assured Mrs. Thompson she was still his favorite teacher.
Then four more years passed and yet another letter came. This time he explained that after he got his bachelor's degree, he decided to go a little further. The letter explained that she was still his favorite teacher, but that now his name was a little longer. The letter was signed, Theodore F. Stoddard, M.D.
The story doesn't end there. You see, there was yet another letter that Spring. Teddy said he'd met this girl and was to be married. He explained that his father had died a couple of years ago and he was wondering...well, if Mrs. Thompson might agree to sit in the pew usually reserved for the mother of the groom. And guess what, she wore that bracelet, the one with several rhinestones missing. And I bet on that special day, Jean Thompson smelled just like...well, just like the way Teddy remembered his mother smelling on their last Christmas together.
THE MORAL: You never can tell what type of impact you may make on another's life by your actions or lack of action. Consider this fact in your venture thru life.
Just for laughs
Kid Talk
We were at my husband's grandmother's funeral with our four year old son. We were at the graveside and the casket was about to be lowered. 
Our son, being a keen Sunday School student, knew that when Jesus died, he rose again. When the casket began to be lowered, and many of our family were crying, our son said in his loudest voice "When is Great Nan going to rise again?!" It certainly relieved the tension of the moment.
  The 'Reed Sea' Miracle
"Wow! Amazing!" Forrest Gump said. "My bible says that God parted the Red Sea and let all His people through on dry ground! That sure is amazing!"
"Sorry," said the biblical 'expert'. "But that wasn't the Red Sea; it was the Reed Sea. And its water is only about one foot deep. No miracle was involved."
"Oh," said Forrest, disappointed, and he read a little more.
Suddenly, he yelled "Wow! What a fantastic miracle! God drowned all those Egyptians in only one foot of water!"
Did you know ?
Beer was the first trademarked product – British beer Bass Pale Ale received its trademark in 1876.
Playing-cards were known in Persia and India as far back as the 12th century. A pack then consisted of 48 instead of 52 cards.
Excavations from Egyptian tombs dating to 5,000 BC show that the ancient Egyptian kids played with toy hedgehogs.
Accounts from Holland and Spain suggest that during the 1500s and 1600s urine was commonly used as a tooth-cleaning agent.
Julius Caesar was the first to encode communications, using what has become known as the Caesar Cipher.
The first mention of soap was on Sumerian clay tablets dating about 2,500 BC. The soap was made of water, alkali and cassia oil.
The first animal in space was the female Samoyed husky named Laika, launched by the Soviets in 1957.
In 1958, the US sent two mice called Laska and Benjy into space.
In 1961. the US launched a male chimpanzee called Ham into space.
In 1963, the French launched a cat called Feliette into space.
Pork is the world's most widely-eaten meat.
In Denmark there are twice as many pigs as people.