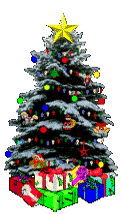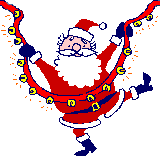 25 December 2016
THE STORY OF CHRISTMAS 
taken from the classic
BEN-HUR: A TALE OF THE CHRIST 
by Lew Wallace
It was now the beginning of the third watch, and at Bethlehem the morning was breaking over the mountains in the east, but so feebly that it was yet night in the valley. 
The watchman on the roof of the old khan, shivering in the chilly air, was listening for the first distinguishable sounds with which life, awakening, greets the dawn, when a light came moving up the hill towards the house. He thought it a torch in some one's hand; next moment he thought it a meteor; the brilliance grew, however, until it became a star. Sore afraid, he cried out, and brought everybody within the walls to the roof. 
The phenomenon, in eccentric motion, continued to approach; the rocks, trees, and roadway under it shone as in a glare of lightning; directly its brightness became blinding.
The more timid of the beholders fell upon their knees, and prayed, with their faces hidden; the boldest, covering their eyes, crouched, and now and then snatched glances fearfully. Afterwhile the khan and everything thereabout lay under the intolerable radiance. Such as dared look beheld the star standing still directly over the house in front of the cave where the Child had been born.
In the height of this scene, the wise men came up, and at the gate dismounted from their camels, and shouted for admission. When the steward so far mastered his terror as to give them heed, he drew the bars and opened to them. The camels looked spectral in the unnatural light, and, besides their outlandishness, there were in the faces and manner of the three visitors an eagerness and exaltation which still further excited the keeper's fears and fancy; he fell back, and for a time could not answer the question they put to him.
"Is not this Bethlehem of Judea?"
But others came, and by their presence gave him assurance.
"No, this is but the khan; the town lies farther on."
"Is there not here a child newly born?"
The bystanders turned to each other marvelling, though some of them answered, "Yes, yes."
"Show us to him!" said the Greek, impatiently.
"Show us to him!" cried Balthasar, breaking through his gravity; "for we have seen his star, even that which ye behold over the house, and are come to worship him."
The Hindoo clasped his hands, exclaiming, "God indeed lives! Make haste, make haste! The Savior is found. Blessed, blessed are we above men!"
The people from the roof came down and followed the strangers as they were taken through the court and out into the enclosure; at sight of the star yet above the cave, though less candescent than before, some turned back afraid; the greater part went on.
As the strangers neared the house, the orb arose; when they were at the door, it was high up overhead vanishing; when they entered, it went out lost to sight. And to the witnesses of what then took place came a conviction that there was a divine relation between the star and the strangers, which extended also to at least some of the occupants of the cave. When the door was opened, they crowded in.
The apartment was lighted by a lantern enough to enable the strangers to find the mother, and the child awake in her lap.
"Is the child thine?" asked Balthasar of Mary.
And she who had kept all the things in the least affecting the little one, and pondered them in her heart, held it up in the light, saying,
"He is my son!"
And they fell down and worshipped him.
They saw the child was as other children: about its head was neither nimbus nor material crown; its lips opened not in speech; if it heard their expressions of joy, their invocations, their prayers, it made no sign whatever, but, baby-like, looked longer at the flame in the lantern than at them.
In a little while they arose, and, returning to the camels, brought gifts of gold, frankincense, and myrrh, and laid them before the child, abating nothing of their worshipful speeches; of which no part is given, for the thoughtful know that the pure worship of the pure heart was then what it is now, and has always been, an inspired song.
And this was the Savior they had come so far to find!
Yet they worshipped without a doubt.
Why?
Their faith rested upon the signs sent them by him whom we have since come to know as the Father; and they were of the kind to whom his promises were so all-sufficient that they asked nothing about his ways. Few there were who had seen the signs and heard the promises--the Mother and Joseph, the shepherds, and the Three—yet they all believed alike; that is to say, in this period of the plan of salvation, God was all and the Child nothing. But look forward, O reader! A time will com
e when the signs will all proceed from the Son. Happy they who then believe in him! 
Let us wait that period.
  Thoughts for Christmas
"A Christmas candle is a lovely thing; It makes no noise at all, But softly gives itself away; While quite unselfish, it grows small." - Eva K. Logue
"Christmas renews our youth by stirring our wonder. The capacity for wonder has been called our most pregnant human faculty, for in it are born our art, our science, our religion." -

 

 Ralph Sockman 

~ (1889-1970), American religious leader.
"Except the Christ is born again tonight 

In dreams of all men, saints and sons of shame, 

The world will never see his kingdom bright.

" - Vachel Lindsay
"It is the personal thoughtfulness, the warm human awareness, the reaching out of the self to one's fellow man that makes giving worthy of the Christmas spirit." -- Isabel Currier 
"Something about an old-fashioned Christmas is hard to forget." -- Hugh Downs 
"They err who thinks Santa Claus comes down through the chimney; he really enters through the heart." -- Mrs. Paul M. Ell 
"Christmas, my child, is love in action." -- Dale Evans 
"It is the personal thoughtfulness, the warm human awareness, the reaching out of the self to one's fellow man that makes giving worthy of the Christmas spirit." -  Isabel Currier
"A Christmas candle is a lovely thing; It makes no noise at all, But softly gives itself away; While quite unselfish, it grows small." - Eva K. Logue
"Christmas renews our youth by stirring our wonder. The capacity for wonder has been called our most pregnant human faculty, for in it are born our art, our science, our religion." -

 

 Ralph Sockman 

~ (1889-1970), American religious leader.
"Except the Christ is born again tonight 

In dreams of all men, saints and sons of shame, 

The world will never see his kingdom bright.

" - Vachel Lindsay
 The Elves and the Shoemaker
A shoemaker, by no fault of his own, had become so poor that at last he had nothing left but leather for one pair of shoes. So in the evening, he cut out the shoes which he wished to begin to make the next morning, and as he had a good conscience, he lay down quietly in his bed, commended himself to God, and fell asleep. In the morning, after he had said his prayers, and was just going to sit down to work, the two shoes stood quite finished on his table. He was astounded, and knew not what to say to it. He took the shoes in his hands to observe them closer, and they were so neatly made that there was not one bad stitch in them, just as if they were intended as a masterpiece.
Soon after, a buyer came in, and as the shoes pleased him so well, he paid more for them than was customary, and, with the money, the shoemaker was able to purchase leather for two pairs of shoes. He cut them out at night, and the next morning was about to set to work with fresh courage, but he had no need to do so, for, when he got up, they were already made, and buyers also were not wanting, who gave him money enough to buy leather for four pairs of shoes. The following morning, too, he found the four pairs made; and so it went on constantly — what he cut out in the evening was finished by the morning, so that he soon had his honest independence again, and at last became a wealthy man.
Now it befell that one evening not long before Christmas, when the man had been cutting out, he said to his wife, before going to bed, "What think you if we were to stay up to-night to see who it is that lends us this helping hand?" The woman liked the idea, and lighted a candle, and then they hid themselves in a corner of the room, behind some clothes which were hanging up there, and watched. When it was midnight, two pretty little naked men came, sat down by the shoemaker's table, took all the work which was cut out before them and began to stitch, and sew, and hammer so skilfully and so quickly with their little fingers that the shoemaker could not turn away his eyes for astonishment. They did not stop until all was done, and stood finished on the table; and then they ran quickly away.
Next morning the woman said, "The little men have made us rich, and we really must show that we are grateful for it. They run about so, and have nothing on, and must be cold. I'll tell thee what I'll do: I will make them little shirts, and coats, and vests, and trousers, and knit both of them a pair of stockings, and do thou, too, make them two little pairs of shoes." The man said, "I shall be very glad to do it;" and one night, when everything was ready, they laid their presents all together on the table instead of the cut-out work, and then concealed themselves to see how the little men would behave. At midnight they came bounding in, and wanted to get to work at once, but as they did not find any leather cut out, but only the pretty little articles of clothing, they were at first astonished, and then they showed intense delight. They dressed themselves with the greatest rapidity, putting the pretty clothes on, and singing, 
"Now we are boys so fine to see, 
Why should we longer cobblers be?"
Then they danced and skipped and leapt over chairs and benches. At last they danced out of doors. From that time forth they came no more, but as long as the shoemaker lived all went well with him, and all his undertakings prospered.
Christmas Day in the Morning
By Pearl S. Buck
He woke suddenly and completely. It was four o'clock, the hour at which his father had always called him to get up and help with the milking. Strange how the habits of his youth clung to him still! Fifty years ago, and his father had been dead for thirty years, and yet he waked at four o'clock in the morning. He had trained himself to turn over and go to sleep, but this morning it was Christmas, he did not try to sleep.
Why did he feel so awake tonight? He slipped back in time, as he did so easily nowadays. He was fifteen years old and still on his father's farm. He loved his father. He had not known it until one day a few days before Christmas, when he had overheard what his father was saying to his mother.
"Mary, I hate to call Rob in the mornings. He's growing so fast, and he needs his sleep. If you could see how he sleeps when I go in to wake him up! I wish I could manage alone
"Well, you can't, Adam." His mother's voice was brisk. "Besides, he isn't a child anymore. It's time he took his turn."
"Yes," his father said slowly. "But I sure do hate to wake him."
When he heard these words, something in him spoke: his father loved him! He had never thought of that before, taking for granted the tie of their blood. Neither his father nor his mother talked about loving their children--they had no time for such things. There was always so much to do on the farm.
Now that he knew his father loved him, there would be no loitering in the mornings and having to be called again. He got up after that, stumbling blindly in his sleep, and pulled on his clothes, his eyes shut, but he got up.
And then on the night before Christmas, that year when he was fifteen, he lay for a few minutes thinking about the next day. They were poor, and most of the excitement was in the turkey they had raised themselves and mince pies his mother made. His sisters sewed presents and his mother and father always bought him something he needed, not only a warm jacket, maybe, but something more, such as a book. And he saved and bought them each something, too.
He wished, that Christmas when he was fifteen, he had a better present for his father. As usual he had gone to the ten-cent store and bought a tie. It had seemed nice enough until he lay thinking the night before Christmas. He looked out of his attic window, the stars were bright.
"Dad," he had once asked when he was a little boy, "What is a stable?"
"It's just a barn," his father had replied, "like ours."
Then Jesus had been born in a barn, and to a barn the shepherds had come...
The thought struck him like a silver dagger. Why should he not give his father a special gift too, out there in the barn? He could get up early, earlier than four o'clock, and he could creep into the barn and get all the milking done. He'd do it alone, milk and clean up, and then when his father went in to start the milking he'd see it all done. And he would know who had done it. He laughed to himself as he gazed at the stars. It was what he would do, and he musn't sleep too sound.
He must have waked twenty times, scratching a match to look each time to look at his old watch -- midnight, and half past one, and then two o'clock.
At a quarter to three he got up and put on his clothes. He crept downstairs, careful of the creaky boards, and let himself out. The cows looked at him, sleepy and surprised. It was early for them, too.
He had never milked all alone before, but it seemed almost easy. He kept thinking about his father's surprise. His father would come in and get him, saying that he would get things started while Rob was getting dressed. He'd go to the barn, open the door, and then he'd go get the two big empty milk cans. But they wouldn't be waiting or empty, they'd be standing in the milk-house, filled.
"What the--," he could hear his father exclaiming.
He smiled and milked steadily, two strong streams rushing into the pail, frothing and fragrant.
The task went more easily than he had ever known it to go before. Milking for once was not a chore. It was something else, a gift to his father who loved him. He finished, the two milk cans were full, and he covered them and closed the milk-house door carefully, making sure of the latch.
Back in his room he had only a minute to pull off his clothes in the darkness and jump into bed, for he heard his father up. He put the covers over his head to silence his quick breathing. The door opened.
"Rob!" His father called. "We have to get up, son, even if it is Christmas."
"Aw-right," he said sleepily.
The door closed, and he lay still, laughing to himself. In just a few minutes his father would know. His dancing heart was ready to jump from his body.
The minutes were endless -- ten, fifteen, he did not know how many -- and he heard his father's footsteps again. The door opened, and he lay still.
"Rob!"
"Yes, Dad--"
His father was laughing, a queer sobbing sort of laugh.
"Thought you'd fool me, did you?" His father was standing by his bed, feeling for him, pulling away the cover.
"It's for Christmas, Dad!"
He found his father and clutched him in a great hug. He felt his father's arms go around him. It was dark, and they could not see each other's faces.
"Son, I thank you. Nobody ever did a nicer thing--"
"Oh, Dad, I want you to know -- I do want to be god!" The words broke from him of their own will. He did not know what to say. His heart was bursting with love.
He got up and pulled on his clothes again, and they went down to the Christmas tree. Oh what a Christmas, and how his heart had nearly burst again with shyness and pride as his father told his mother and made the younger children listen about how he, Rob, had got up all by himself.
"The best Christmas gift I ever had, and I'll remember it, son every year on Christmas morning, so long as I live."
They had both remembered it, and now that his father was dead, he remembered it alone: that blessed Christmas dawn when, alone with the cows in the barn, he had made his first gift of true love.
This Christmas he wanted to write a card to his wife and tell her how much he loved her, it had been a long time since he had really told her, although he loved her in a very special way, much more than he ever had when they were young. He had been fortunate that she had loved him. Ah, that was the true joy of life, the ability to love. Love was still alive in him, it still was.
It occurred to him suddenly that it was alive because long ago it had been born in him when he knew his father loved him. That was it: Love alone could awaken love. And he could give the gift again and again.This morning, this blessed Christmas morning, he would give it to his beloved wife. He could write it down in a letter for her to read and keep forever. He went to his desk and began his love letter to his wife: My dearest love...
Such a happy, happy Christmas!
The Gold Slippers
--- Author Unknown
It was only four days before Christmas. The spirit of the season hadn't yet caught up with me, even though cars packed the 
parking lot of our local discount store.
Inside the store, it was worse. Shopping carts and last minute shoppers jammed the aisles. Why did I come today? I wondered.
My feet ached almost as much as my head. My list contained names of several people who claimed they wanted nothing but I knew 
their feelings would be hurt if didn't buy them anything.
Buying for someone who had everything and deploring the high cost of items, I considered gift-buying anything but fun. 
Hurriedly, I filled my shopping cart with last minute items and proceeded to the long checkout lines. I picked the shortest 
but it looked as if it would mean at least a 20 minute wait.
In front of me were two small children - a boy of about 5 and a younger girl. The boy wore a ragged coat. Enormously large, 
tattered tennis shoes jutted far out in front of his much too short jeans. He clutched several crumpled dollar bills in his 
grimy hands. The girl's clothing resembled her brother's. Her head was a matted mass of curly hair. Reminders of an evening 
meal showed on her small face.
She carried a beautiful pair of shiny, gold house slippers. As the Christmas music sounded in the store's stereo system, the 
girl hummed along, off-key but happily.
When we finally approached the checkout register, the girl carefully placed the shoes on the counter. She treated them as 
though they were a treasure.
The clerk rang up the bill. "That will be $6.09," she said. The boy laid his crumpled dollars atop the stand while he 
searched his pockets. He finally came up with $3.12. "I guess we will have to put them back, " he bravely said.
"We will come back some other time, maybe tomorrow." With that statement, a soft sob broke from the little girl. "But Jesus 
would have loved these shoes, " she cried. "Well, we'll go home and work some more. Don't cry. We'll come back," he said.
Quickly I handed $3.00 to the cashier. These children had waited in line for a long time. And, after all, it was Christmas. 
Suddenly a pair of arms came around me and a small voice said, "Thank you lady."
"What did you mean when you said Jesus would like the shoes?" I asked.
The boy answered, "Our mommy is sick and going to heaven. Daddy said she might go before Christmas to be with Jesus." The 
girl spoke, "My Sunday school teacher said the streets in heaven are shiny gold, just like these shoes."
"Won't mommy be beautiful walking on those streets to match these shoes?"
My eyes flooded as I looked into her tear streaked face. "Yes" I answered, "I am sure she will."
Silently I thanked God for using these children to remind me of the true spirit of giving." 'Tis the Season!! Remember that 
it's better to give than receive.
CHRISTMAS WITHOUT THEM
- Corky Ferguson -
The night is clear and the air is crisp, snow falls gently on the ground. Tonight is Christmas Eve. Off in the distance I 
hear the voice of approaching carolers. They are too far away to hear the song they sing. I quickly close the door shutting 
out the sights and sounds of Christmas. Tonight is just too painful as I think of "Christmas Without Them".
Is Christmas ever the same when we are without our loved ones?
The traditions I have cherished since childhood have changed into something new and unexpected. As an adult, I find myself 
with feelings of a five year old, scared and alone. I have no mother or father to comfort me. Tears flow and I feel my heart 
breaking.
Sometimes, I find myself standing in the midst of strangers with tears running down my cheeks. Why is it so difficult to 
purchase candy canes and beautiful red bows? 
I catch the glimpse of the shoppers, as they try not to stare, while others, forgetting they are strangers, stop to offer a 
knowing smile of understanding. I begin to realize I am not alone with these types of feelings. All of a sudden the memories 
come flooding in.
How fortunate I am to have such wonderful memories of my wonderful parents and the times we shared. Just as quickly as the 
memories brought tears the same memories resurfaced to spread joy. Memories have a way of making the emptiness bearable. I 
remember. I smile.
My thoughts are once again returned to the children. Their sounds of singing grow closer. I open my door to find their half- 
frozen faces, smiling brightly at me.
Christmas without them may never be the same, but, from out of the darkness pleasant memories flood my heart. I can almost 
hear my parents voices telling me the story of this most holy night. Like a message from above, I listen as the children 
sing, "Sleep in heavenly peace".
You may not know that........
Bolivians celebrate Misa del Gallo or "Mass of the Rooster" on Christmas Eve. Some people bring roosters to the midnight mass, a gesture that symbolizes the belief that a rooster was the first animal to announce the birth of Jesus.f
The British wear paper crowns while they eat Christmas dinner. The crowns are stored in a tube called a "Christmas cracker."f
In Poland, spiders or spider webs are common Christmas 
Christmas trees are evergreen trees, usually either a fir tree, pine tree or spruce tree.
It is believed that decorating Christmas trees originated in 16th century Germany when Christians would bring decorated trees into their homes.
The song Jingle Bells was written by James Pierpont in 1857.  It was originally called "One Horse Open Sleigh" and was made for Thanksgiving.
Many years ago in England a traditional Christmas dinner included a pig head served with mustard.
The tradition of naughty children getting a lump of coal in their stocking comes from Italy.
THERE is no reference to angels singing anywhere in the Bible.
A traditional Christmas dinner in early England was the head of a pig prepared with mustard.
According to a 1995 survey, 7 out of 10 British dogs get Christmas gifts from their doting owners.
According to the National Christmas Tree Association, Americans buy 37.1 million real Christmas trees each year; 25 percent 

of them are from the nation's 5,000 choose-and-cut farms.
American billionaire Ross Perot tried to airlift 28 tons of medicine and Christmas gifts to American POW's in North Vietnam 

in 1969.
Christmas Present
A guy bought his wife a beautiful diamond ring for Christmas.
After hearing about this extravagant gift, a friend of his said, "I thought she wanted one of those sporty four-wheel-drive vehicles."
"She did," he replied. "But where was I going to find a fake Jeep?"
What animals were there when baby Jesus was born?
Matthew, six;  "There were sheep, horses and a crocodile outside the stable."
Ruby, six;  "At his birth there were oxens, a donkey, three camels, three birds - all white - and three cats, all black."
Hannah,  "There was a donkey, a sheep and cow there as well as Mary and Joseph. It sounds quite crowded."
Megan, six: "The animals who were there in the stable were oxens, donkey, cats and a lamb."
Valente, six: "There were camels, donkeys and cows around the stable and the wise men went to the manger to say hello to Jesus."
Christmas Spirit
It was just before Christmas and the magistrate was in a happy mood. He asked the prisoner who was in the dock, 'What are you charged with?'
The prisoner replied, 'Doing my Christmas shopping too early.'
'That's no crime', said the magistrate. 'Just how early were you doing this shopping?'
'Before the shop opened', answered the prisoner.
Three Wise Women 
(as opposed to Three Wise Men)
Do you know what would have happened if there had been Three Wise WOMEN instead of Three Wise MEN?
The WOMEN would have:
- Asked directions,
- Arrived on time,
- Helped deliver the baby,
- Cleaned the stable,
- Made a casserole, and
- Brought practical gifts (like diapers!)